Vietnam, China reach agreements to boost bilateral ties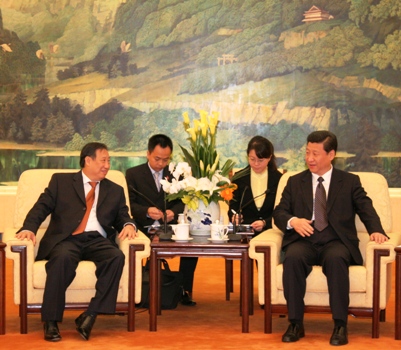 Continuing his four-day tour to China for the fourth meeting of the Steering Committee for Vietnam-China Bilateral Cooperation, Vietnamese Deputy PM Pham Gia Khiem on July 2 in Beijing met with Chinese Vice President Xi Jinping.
At the meeting, Deputy PM Pham Gia Khiem warmly congratulated the 89th anniversary of the founding of the Chinese Communist Party and conveyed condolences of the Vietnamese Government to the Chinese Government and victims of the floods in South China.
For his part, Vice President Xi Jinping lauded the outcomes of the fourth meeting of the Steering Committee with specific measures to beef up the strategic partnership for comprehensive cooperation between the two countries.
The Party and Government of China attach importance to the development of ties with Vietnam and pledge to facilitate the friendly relations, affirmed Mr. Xi Jinping. Earlier, on July 1 in Beijing, Vietnamese Deputy PM, FM Pham Gia Khiem and Chinese State Councilor Dai Bingguo co-chaired the fourth meeting of the Steering Committee for Vietnam-China Bilateral Cooperation.
Both sides took this occasion to review the bilateral ties over the past year, discuss cooperation issues in such fields as politics, national defense, security, economics, cultural and education, and reach agreements to strengthen the relations.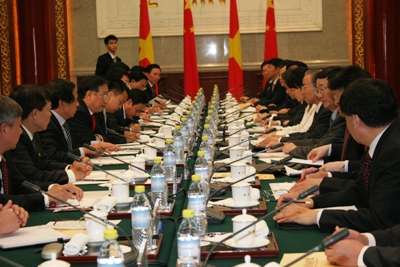 In politic terms, Vietnam and China were unanimous in reinforcing political trust and speeding up political exchanges for a solid foundation of the bilateral ties.
The two sides agreed to early set up a "hot line" for high-ranking leaders of Vietnam and China and successfully organize the Vietnam-China Friendship Year 2010.
In the areas of economics, trade and investment, the two sides acknowledged the necessity to deepen cooperation and diversify forms of practice, maintain the stable ascension of two-way trade turnover, and settle trade imbalances.
In addition, both sides consented to early host the 7th meeting of the Vietnam-China Committee for Economic and Commercial Cooperation and create favorable conditions for business activities.
Regarding the border issues, the two sides reached a consensus to maintain stability, properly solve the issues of borders and territories, seriously abide by the three signed documents on land border, and proactively seek basic and long-term solutions to sea issues through friendly negotiations.
Vietnam and China also agreed to enhance coordination in dealing with major international and regional issues./.