Vietnam-Japan ministerial talks reach high consensus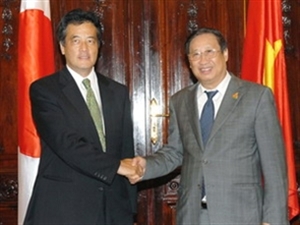 July 24 saw Japanese Foreign Minister Katsuya Okada busy paying separate visits to Prime Minister Nguyen Tan Dung and Party Central Committee's Permanent Secretary Truong Tan Sang, and holding talks with Deputy Prime Minister and Foreign Minister Pham Gia Khiem.
The Japanese top diplomat was on official visit to Vietnam from July 23-24 after attending the Mekong-Japan Ministerial Meeting, the ASEAN-Japan meeting and the 17th ASEAN Regional Forum (ARF), just concluded in Hanoi . During their talks, Khiem and Okada reached an overwhelming consensus on a number of concrete measures to boost cooperation, ranging from economy-trade-investment to culture, education, energy and environment, especially to cope with climate change. The two parties agreed to further strengthen coordination of action in multi-lateral forums in order to promote the role played by Vietnam as President of the Association of Southeast Asian Nations (ASEAN), and Japan as the host of the Asian-Pacific Economic Cooperation Forum (APEC) summit-2010. Host and guest expressed satisfaction at the recent strong and effective development of bilateral relations. Such a relationship, once drastically growing within the framework of the strategic partnership, would not only meet the interest of the two countries but also contribute an important part to peace, stability and development in Asia and the world as a whole, they emphasised. The duo agreed to establish a dialogue mechanism on Vietnam-Japan strategic partnership at the deputy foreign ministerial level. They said the tool was necessary for the two sides to exchange views in both depth and width issues on politics, security and national defence in the spirit of strategic partnership for peace and prosperity in Asia . Both described the ASEAN ministerial meeting and relevant meetings in Hanoi as successful thanks to preparations by host Vietnam and active contributions by participating countries like Japan . Later in the day, Okada was received by Truong Tan Sang, Politburo member and Permanent Secretary of the Communist Party of Vietnam Central Committee. He emphasised Japan's respect to comprehensive relations with Vietnam as shown in a visit by the Japanese Prime Minister later this year. Japan also expected to boost bilateral cooperation in key projects, he said. For his part, Sang expressed thanks to the Japanese Government and people for their strong assistance through ODA provision and broad relations in economics, trade, investment and other areas. He also reiterated Vietnam's unswerving policy to respect and constantly develop strategic partnership with Japan in the interest of peace and property in Asia . After praising the outcome of talks between the two foreign ministers, Sang emphasised the role played by the two foreign ministries in speeding up the implementation of signed accords, programmes and projects of cooperation./.
(Vietnam+, on MPI